NGPBX. Cloud Telephony that Raises The Bar

---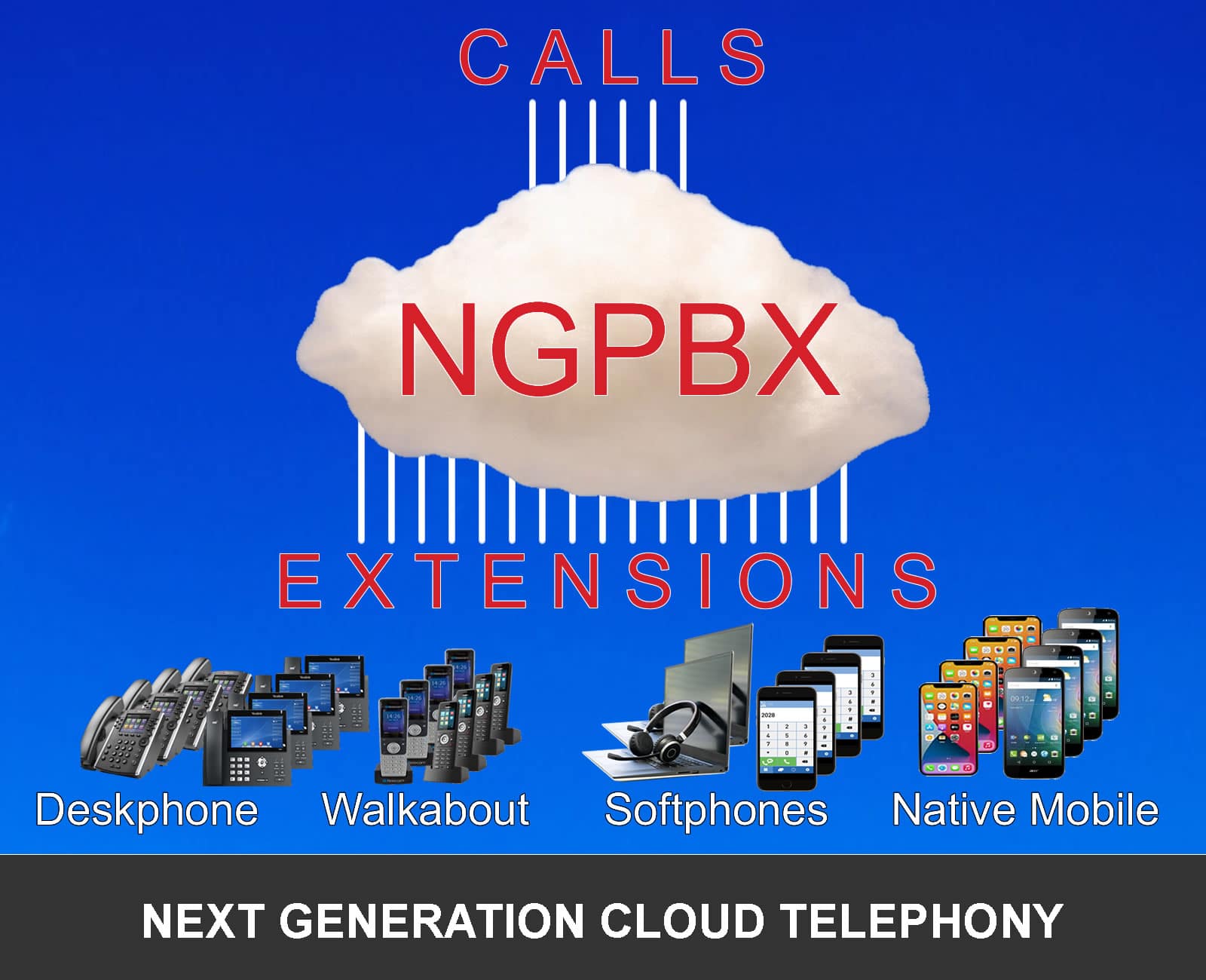 Cloud Telephony
Cloud Telephony delivers a flexible and scalable telephone system simply by plugging handsets into your computer network. We have already invested in the system itself, so you simply buy or rent the handsets with a modest charge to use the service and cover the cost of the calls you make.
Cloud Telephony has been widely user for around 10 years, but NGPBX Next Generation Cloud Telephony is new for 2022. It has all the features of traditional Cloud Telephony systems, with a number of enhanced service differentials.
Here are some of the new benefits and features of NGPBX

"Calls" and "Extensions" pricing model to slash monthly costs
Standard or Premium Extension Licences to meet your exact needs
Multi-Company Option with Outbound CLI Selection
Advanced Analytics and Wall Boards for any business or Call Centre
Free Softphone Licences for Windows, iPhone and Android
Free 5 Years Call Recording with Premium Licence
Optional PCI DSS / MiFID Call Recording Compliance with 7 Year storage
Native Mobile Phone Support (No App required)
Native Mobiles can Transfer, Conference, Record and have Analytics
Native Mobiles roam across multiple UK networks: Vodaphone,O2 & EE
Native Mobiles can have a new or existing 01, 02 or 07 number
Optional TRANSCRIBE of speech to text with Text Search of Voice Recordings
Transcribe includes SENTIMENT analysis for PCI Breaches, Company Keywords, Expletives, Agent tone and Caller tone
Recording Supervisor Audit Queue for recordings flagged by Sentiment
The traditional Cloud Telephony pricing model
Traditionally, Cloud Telephony allows every extension to be used simultaneously. Whilst this is a powerful solution, the recurring service costs can escalate if you have large numbers of extensions. For example, a school, college or hotel may need hundreds of extensions, but will never be using more than a few of them at any given instant.
The NGPBX pricing model solves this problem
The new NGPBX model allows you to significantly reduce costs by having more "Extensions" than "Calls". Furthermore, the model works for EVERY size company because when you add the cost of "One Extension" and "One Call" - it is identical to our Traditional Cloud Telephony service to ensure NGPBX pricing is win-win for every size of business.
Over 70 features as standard, including:
Flexible Extension Numbering
Direct Dial Numbers (DDI's)
Internal & External Call Transfer
Announced and Blind Call Transfer
Diverts: Always, Busy, No Answer
Flexible Ring Groups & Call Pick-Up
Voice Mail (with optional message forward to email)
Music On Hold (can be customised)
Personal & Group Address Books
Conferencing Calls
Call Hold. Make 2nd Call. Then Transfer or Conference
Single-Site or Multi-Site or International Sites
UK Numbers Available from Any Exchange Area
International Telephone Numbers from 70 Countries
Optional features include:
Click-to-dial from your PC
Advanced Call Queuing Options
Native Mobiles with Call Transfer, Conferencing, Recording and Call Analytics
Native Mobiles SIMs roam multiple UK Networks (Voda/O2/EE)
Video calling from your deskphone or smartphone
Video conferencing rooms with invites for others
CRM integration with over 50 products
Intelligent Call Recording from 50 days to FOREVER
Speech-to-Text transcribing and search of Call Recordings
Call Recording transcribed Trigger Words and Supervisor Check/Release Queue
Business Call Statistics
Call Centre Statistics and Wall Boards